What are plant hardiness zones and why are they important?



Well, plant hardiness zones are a guide to help you know which plants will grow and survive where you live.
A hardiness zone is a geographically-defined zone in which a specific category of plant life is capable of growing, as defined by temperature hardiness, or ability to withstand the minimum temperatures of the zone.
The plant hardiness zone maps below will show you if certain plants can manage your areas temperatures.
Plants vary in the temperature extremes they can endure, the lower temperature especially being an important factor.
Due to the moderating effect of the Gulf Stream on the Irish and UK's temperate maritime climate, the UK, and Ireland even more so, have rather milder winters than their northerly position suggests.
This means that the hardiness zones relevant to the Ireland are quite high, from 8 to 10, as shown below.

* 7. Central Scotland and the Highlands, and locally in the Southern Uplands and the Pennines.
* 8. Parts of central Ireland and Most of England, Wales and Scotland.
* 9. Most of coastal Ireland, western and southern England and Wales, western Scotland, also a very narrow coastal fringe on the east coast of Scotland and northeast England (within 5 km of the North Sea).
* 10. Very low lying coastal areas of the southwest of Ireland, and the Isles of Scilly.


Plant hardiness map for Ireland and UK................Plant hardiness map for Europe


Zone 2: -46 to -40 C (-50 to -40 F)
Zone 3: -40 to -34 C (-40 to -30 F)
Zone 4: -34 to -29 C (-30 to -20 F)
Zone 5: -29 to -23 C (-20 to -10 F)Zone 6: -23 to -18 C (-10 to 0 F)
Zone 7: -18 to -12 C (0 to 10 F)
Zone 8: -12 to -7 C (10 to 20 F)
Zone 9: -7 to -1 C (20 to 30 F)
Zone 10: -1 to 4 C (30 to 40 F)
Zone 11: above 4 C (above 40 F)

So, looking at the map we can see that the south coast of Ireland is a zone 9 and has a lowest possible temperature of -7 to -1 C (20 to 30 F).
It has a higher base temperature than the north with a zone 8 rating of -12 to -7 C (10 to 20 F)
If we had a severe frost across Ireland, frost susceptible plants in the south may have a better chance of survival then similar plants in the midlands of Ireland.
Many plant books and labels state the zone hardiness for plants, it will serve you well to heed them.



Definitions of Frosts and the possible damage caused.





0° Celsius

is a commonly called a touch of frost.
The damage to your plants should be slight, however, it depends upon the duration of the frost, topography of the growing area etc.



-2° C to 0° Celsius

is a light Freeze
Your very tender plants may be killed with little effect on other hardier vegetation.



-4° C to -2° Celsius

is a Moderate Freeze
Many plants in your garden will be damaged especially fruit blossoms and tender plants.



sustained -5 ° Celsius

and colder is regarded as quite a Severe Freeze here in Ireland.
Below this temp you will experience damage to all but the hardiest of your plants.





New Zealand has very similar plant hardiness zone zones to Ireland.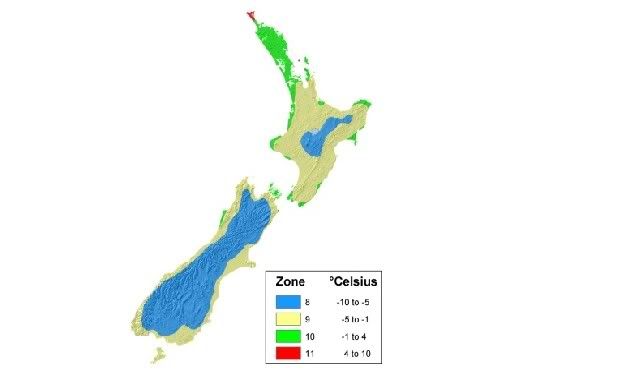 Lots of plants native to New Zealand thrive in Ireland.




Here is the plant hardiness zone map for Australia, as well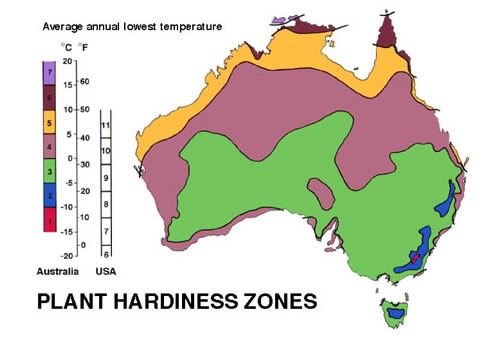 For some extremes of temperature, here is the US, Canada and Mexico plant hardiness zone map.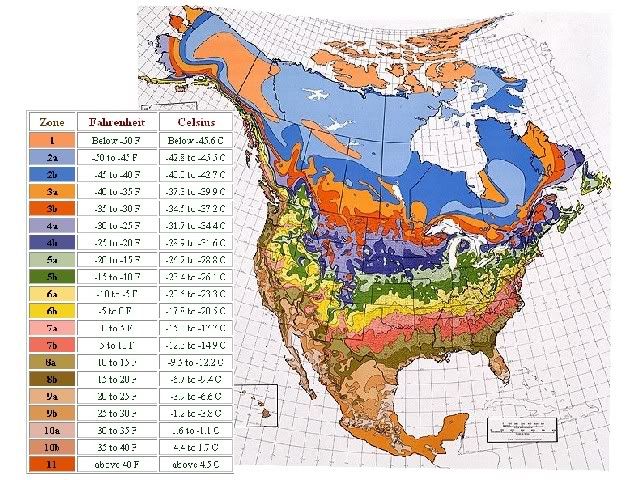 Here is the USA map on its own.