Growing Ornamental Grasses: Growing Advice and Handy Tips for the Gardener


By Peter Corbett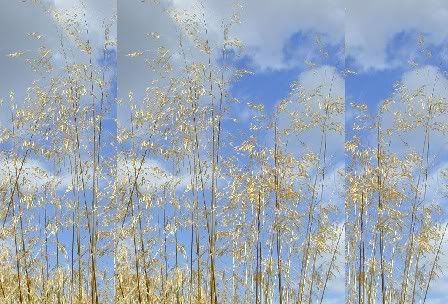 Photo / pic / image of Giant Feather Grass (Stipa gigantea).


_______________________________________________________________

Finding the Spot.
The winds of change have blown through the gardening world during the last twenty years. With the modern trends now turning towards smaller and more minimalist gardens and the rise in popularity of planned low maintenance and theme gardens from oriental to modern contemporary styles and even prairie, there has been a renewed interest in ornamental grasses. Many grasses are undeniably elegant and graceful adding structure and form to a garden. In the breeze they bring movement and sound.
Many have beautiful flowers and later seed heads that last right through the winter season.

Grasses are probably the most highly developed and most widely distributed of all plants.
Grasses remain one of the most important plant groups as they include all the cereal and rice crops that sustain man and feed and fodder for our animals, They provide roofing thatch and building materials, alcohol, and over millennia most of our fossil fuels.

Grasses are the most undemanding of plants they require little care except a brush up and trim once in a while.
There are grasses to suit all garden sizes and soil types from the stately Cortadiera and Stipa gigantica (gigantea) down to the dainty "Acorus gramineus."

In order to understand how to grow grasses successfully in your garden its important to understand a little about their growth habits.
Perhaps the most important thing to know if you are unfamiliar with grasses is that grasses reproduce both vegetatively, that is by sending up new shoots from their roots or rhizomes and by seed distribution.

There are a several simple ways to group grasses for the novice.
First by their growth habit, some form clumps and tussocks and usually reproduce through seed production, as a rule are quite well behave. The others are spreaders or runners who produce new shoots through spreading roots and rhizomes and can tend to march.
Most domestic lawns are made up of a mixtures of these running grasses.

The other important grouping is to distinguish between what are known as warm weather grasses and cold weather grasses.
The impact on the plant can be quite dramatic if you are dividing plants for propagation and you choose the wrong time of year to do it.
The difference between warm weather and cold weather grasses should not cause you any problems if you are just transplanting from a small pot to a larger one or direct to the garden.
_______________________________________________________________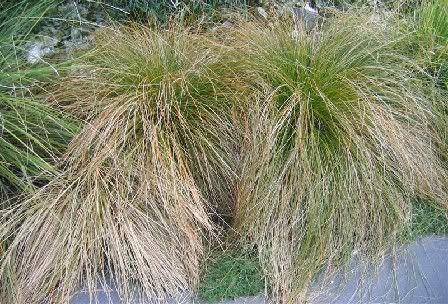 Photo / pic / image of Carex testacea.


_______________________________________________________________

Sedges are not true grasses though they are often lumped together with the grass section at retail outlets.
Although very similar to grasses the are in fact a very much older species.
Sedges tend to prefer wet or boggy situations and are dealt in a separate section to avoid confusion.

Most grasses enjoy sunlight, as much as possible, however there are a number of varieties of ornamental grasses that tolerate shade for part of the day.
Most grasses are totally unfussy about the type of soil they are in as long as its not water logged. Grasses have an incredibly sophisticated and efficient root system making them extremely exposure and drought tolerant. Most grasses prefer a very free draining soil that is almost impoverished if they are to perform well. There is very rarely any need to feed as to much nutrient makes the grass over lush and it tends to collapse. If your soil is very heavy or clay try digging in plenty of sharp sand. One other benefits of grass is you can mulch with grave. Gravel not only highlights the grasses features but the gravel will eventually work its way down into the soil to the appreciation of the plant.

Grasses on the whole do not suffer much from pests and diseases.
Most problems that are likely to be encountered will be from trying to grow a plant in the wrong place especially if the ground is waterlogged. Wet ground combined with environmental extremes such as freezing conditions are probably the only sure way to kill most grasses. Don't forget to water container grown grasses occasionally and grasses that are exposed to warm or cold drying winds.
If your grasses are showing any signs of stress the best thing is to up with them and shift them somewhere else, it wont harm them, they are survivors and want to survive and do well just as you do.

Finally once again consider the size of the plant you are buying do your research.
A giant Cortadiera in its infancy in a 1 litre pot looks insignificant when stood alongside a Miscanthus sinensis in a 2 litre pot in the garden centre. Ten years down the line however the Miscanthus will have probably made 80cm x 70 cm but wow! the Cortadiera selloana will be in the region of 3 meters by 3 meters. If you have a small garden there wont be much left and don't forget to consider the shade that these big guys throw out.

Choose carefully and enjoy your grasses they are truly worth the time an thought.


The Pot and Grass Company specialises in importing and growing Hardy Bamboos and Ornamental Grasses. The Pot and Grass Company can be found at http://www.potandgrass.co.uk
The Author Peter Corbett has a passion and is an avid collector of bamboo and grasses. He advises the Pot and Grass Company.