The effect of time in a garden becomes increasingly noticeable when you spend a decent amount of time in it, some of which are reversible and some that are not. I have come to love this garden and, at times I can hate it and it is the most wretched swine to have to put up with but one thing is certified: I will continue to work with and in it for as long as I can despite the bitter sweet fact that I will have to leave this garden and endure a physical and emotional struggle to create another. I make no secret of saying this garden heals me and long may it continue to do so. However, this healing goes further than a handful of herbs in some lumpy concoction; it is as spiritually healing as it is physically. So after last week I am healthier as ever. Having found time in a busy schedule I have been able to spend time renovating the mixed border which was in need of some TLC. This garden was created in the winter of 2005- a time I bitterly remember as it was a cold and wet winter and an 8ft pile of brick and rubble required moving before any groundwork could even be thought about. It has taken two years to get where we are now and the point has been reached where plants need thinning, dividing, replanting and, in the worst case scenario, discarding. This is fair. You expect when you nurture a garden from the very beginning, mollycoddle each individual and help it on its way to maturity, there will be some losses along the way. Gardens are not unlike a political network by which each individual area receives attention whilst the rest remain untouched; unloved. This kind of approach is unadvisable as it can lead to the down fall of an otherwise good garden, on the other hand I would advise you do tackle an area at a time because this can prove to be the best approach and it will make you feel you have completed something that needed doing in the space of an hour or two. Obviously take it easy and segregate yourself from the rest of the world; be in your own little world where everything is rosy.

Victorian gardeners brought about the overall idea of herbaceous borders where perennials such as crocosmia and hemerocallis would meet several hundred years ago and they have existed ever since. Often than not these old but wise gardeners would tackle their borders on an annual basis which would involve the splitting and replanting of the perennials to clear ground space for new specimens, continually popping up on the market as new varieties were found. You could bet your bottom dollar that if you visited such a garden one week it would be noticeably different the next. And, furthermore it was as if these plantsmen were putting their gardens on display for others as opposed to their personal pleasure and as a result of this each single species would receive its very own tag depicting its botanical name rather than its vernacular name, the date it was founded and the person who founded it. Now I have not labelled every plant in the garden but I have dividing a lot of plants including Kniphofias, hemerocallis, doronicums and rudbeckias but also I found myself planting self sown seeds into more hospitable places within the garden some of these included the dramatic cardoon; the nymph-like foliage of aquilegia and the promising clumps of foxgloves which never cease to distribute themselves across the entire garden and beyond its boundaries. We have guests staying with us the week that I write this which means the garden will be viewed through untamed eyes which is always worrying when the people staying are gardeners themselves so it has therefore fell on me to 'spruce' up the borders for want of a better word. Several consecutive dry and warm days made for marvellous weather to get planting some newly bought varieties, hoe around them and mulch them while the soil was warm yet wet. I have kept a gardening journal ever since the summer of 2005 where I record everything planted, sown or purchased; it also allows me to record what is looking good at that time and what is failing to perform. From adhering to this strict regime I can tell you that last week I planted

2x Iris germanica blue, 2x Delphinium 'Summer skies', 2x Lysimachia 'Firecracker', 3x Lobelia 'Cinnabar rose', 3x mixed Lupins, 2x Eryngium planums, 3x Festuca glauca, 1x Physocarpus opulifolius, 1x Rosa 'Tess of the D'urbavilles', 1x Rosa 'St Swithun', 1x Rosa 'Filipes Kiftsgate', 1x Clematis montana 'Warwickshire rose', 2x Euphorbia ' Black pearl ', 2x Knautia, 2x Lobelia cardinalis 'Queen Victoria', 2x Carex comans bronze, 1x Trachylospernum jasminoides and 2x Aster 'Blue boy'

. On top of all this I have added more

buxus sempervirens

to enlarge the box hedging and the border which it encapsulates. Into the shade garden went

3x Arum italica, 1x Doronicum, 1x Epimedium and 1x Erythronium 'Pargoda'

.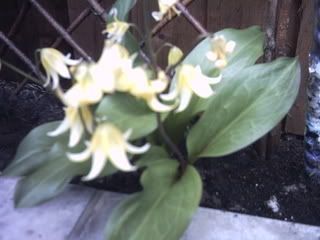 For the yard adjacent to the house I planted a

Rhododendron 'Lavendula'

and a

Rhododendron russatum 'Gletschernacht'

: for future reference the former bares light purple flowers that are somewhat jewel-like and the latter bares dark macabre blue flowers like those of a typical Gentian blue. As for the vegetable garden I felt a change was in desperate need so to that end I built a sweet pea tunnel made from the finest hazel cut in close proximity. Onto this semi-permanent structure I will plant

Lathyrus odaratus 'Old fashioned mix'

in a couple of days which hopefully will engulf the gnarled hazel supports and fill the air with both splendid colour and awesome scent. Don't get me wrong but I strongly feel approaching the garden with the 'makeover' approach should be frowned upon as it goes against the entire ethos of having a garden. It is rather like a drug addict, a stupid fool who will spend thousands of pounds for a quick 'fix' instead of searching for a more reliable way of coping with life- in the end he, or she, will come away the loser every time and each dig will suck the life from them.

To create a garden is to create a private space to relax in, to enjoy and, ultimately, to work in- I long for my garden if I am away from it for longer than a week and, yes, this does come with its own complications.
Complications for other people that is because I am quite happy to stay in this garden for as long as possible so when I do have to go away I pine like a sad mundane puppy dispersed from its mother and it is only when we are reunited that I can honestly sit and be at ease, knowing that I need the garden if I am to function properly. Both the garden and I operate on a way one relationship: I know I can't last without being and working in it yet on the other hand, I know that the garden can last without me and will do fine without my clumsy interference. One could think of this as sad and worthless but look deeper and there is meaning, there is light at the other end of the tunnel for if it were not for me this garden would not even exist so somehow I seem to have born this garden and parented it to a stage of adolescence where it wants to fend for its self and does not need an intrusive parent figure around anymore. So I watch it grow and find comfort in correcting any inferior little niches such as a plant in the wrong place or a weed where it is not wanted- this is sophisticated gardening I am told- whereby the lumbersome, sweaty jobs have been done and only the fine tuning remains. But like any good organic gardener I say "huff". Give me filthy hard jobs to do where the sweat rolls down your face and back; give me the jobs that make every muscle in your body cringe and ache and finally give me the jobs that take time to complete because I couldn't care less because to be in a garden where the warbling birdsong is fluent and the smell of freshly mown grass and rich fragrances like that of Clematis armandii and Lily of the Valley are almost tangible is to be in seventh heaven and to be honest with you that is where I am now in spring and the birdsong is louder than ever and the mellow fragrances are stronger than ever and my God am I loving each and every minute of it...[/i]