This is Aesculus pavia commonly known as the "Red Horse chestnut" or the "Red Buckeye" in America.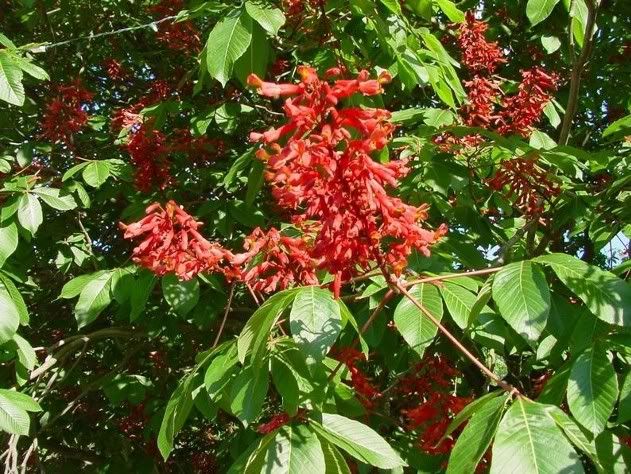 Photo / pic / image of Aesculus pavia.


_______________________________________________________________



Aesculus pavia facts and information.



In my opinion, this beauty is planted too infrequently in this country.
It was created by crossing the common "Horse Chestnut" native to the Balkans with the red North American species to form a frost hardy small tree.
Boasting a modest maximum height of 5 metres (15ft); with a spread of approx 4 metres (12ft), this deciduous tree is quite dome shaped.
The slightly drooping bold foliage is of a glossy dark green colour, which at this time of year is brightened up by reddish pink panicles of tubular flowers. Following on from the handsome flowers are the inedible light brown-skinned fruits. Because of its relatively compact size, I suggest using this small tree as a lawn specimen or as an entrance planting.
Give Aesculus pavia a position in full sun and some shelter from strong winds in its formative years for good growth.