Primula vulgaris also known as the Polyanthus or Primrose.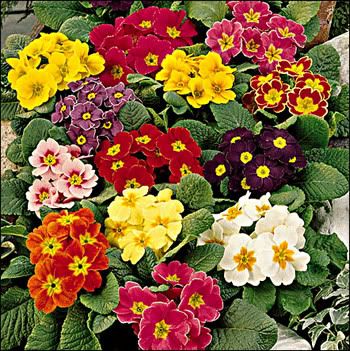 Scientific classification


Kingdom: Plantae
Division: Magnoliophyta
Class: Mangnoliopsida
Order: Ericales
Family: Primulaceae
Genus: Primula
Species: P. vulgaris



Spring bedding plant?


Primula vulgaris is commonly known as the Polyanthus or Primrose. This gem, which is sold in garden centres as a spring bedding plant is actually a perennial that will grow and bloom within your garden for many years. I've heard people refer to the variety commonly sold in the garden centres, as the cowslip, this is incorrect. The commonly available Primula, indeed possesses rural charm, but not bovine charm. The true cowslip is known by the Latin, Primula veris.



Textured leaves & striking blooms.


When not in flower, the Polyanthus rosettes of wrinkled and ribbed leaves sprawl across the ground. The blooms stretch through the months of March, April and May and are slightly scented. Flower colours available include whites, yellows, pinks, reds and purples. Bi-colour blooms are also available, with the red petal and yellow eye combination particularly striking to myself.

Spring colour injection.
Polyanthus are ideal to inject spring colour to the outer edges of beds/borders or to perk up window boxes and containers. Maybe you could go all out and create a massed bedding display with Polyanthus? Allow a planting distance of 8 inches to a 1ft per plant to adequately display its 1ft wide spread over the years. Planting in partially shaded soil that is moist and rich will reward you with fresh growth and a beautiful flowering display.