Plan your planting of rootballed evergreens and conifers.



If you have been gardening for a few years, you may have planted some root-balled plants. If you have never seen this form of plant before, let me introduce you this quite economical and successful way to add a certain maturity to your garden.

Root-balled plants are freshly dug from the ground they were originally grown in for each order, and are supplied with their roots and soil bound or balled in a hessian sack. Because they have been grown in the open ground, there are less production costs, so they are cheaper and are usually in as good, if not better condition than pot-grown plants.

It is commonly agreed by most gardeners that the window available for planting root-balled deciduous specimens is from mid October to mid March. The deciduous plant, which loses its leaves seasonally, is blissfully unaware that its leafless form is moving house.



Root-balled evergreen planting?


But what about broadleaf evergreens and conifers in the root-balled form, when do we plant those? Well, their best time for planting is just upon us, from now until the end of March.

The reason I always put forward for not planting them in November, December etc is that their seemingly perpetual leaves are liable to be damaged by cold drying winter winds. You see, deciduous plants are leafless during winter, so they are not affected, whereas broadleaf evergreens and conifers retain their leaves right throughout our cold, windy seasons.

The cold winds often cause young plants to suffer dried out or burnt leaves, also known as foliage desiccation. So right now is a much safer time to carry out these plantings, but even so, the young plants must be kept well watered for their first year to prevent the dreaded wind-burn.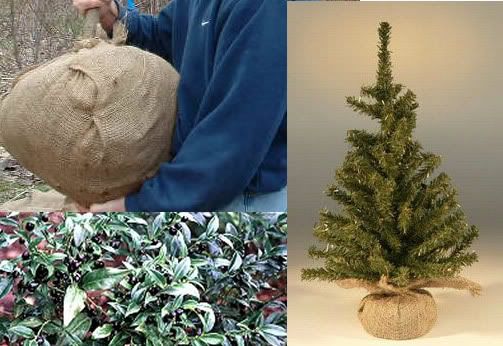 rootballed and burlap conifers / evergreens, photo / pic / image.



You will see quite an amount of semi mature evergreens and conifers planted over the next few weeks, in many different situations. Some gardeners will give an instant lift to a flat and boring bed using a fully-grown specimen conifer, whilst others out there may have a semi mature evergreen hedge harbouring one plant failure, which they are now replacing.



Transplanting misplaced evergreens or conifers.


The upcoming month of March is also the time of best success when transplanting any misplaced evergreens or conifers. You can increase your chances of success further if you heavily water the plant to be moved, daily, for approx five days before moving.

Organise that the new planting pit is dug before you even attempt to lift the transplant; this reduces the amount of time that roots are exposed to air. Try to lift the transplant with as much soil and fine root present as possible. When replanting it, inspect those roots thoroughly, if any are torn or damaged, then trim them back.

I recommend you blend half topsoil and half compost as a back-fill mix for transplanting; working this around the roots in the pit with your fingers, whilst eliminating any air pockets. Remember to water the transplant heavily after replanting and water it well for its first year. This will be your house-warming present to the plant as it takes up residency in its new home.


If you plan your planting of rootballed evergreens and conifers, things will go and grow much smoother for you.
Any questions on this article please post them below.....