Transplanting Trees & Shrubs




By R Birch



There are times when a plant out grows its spot or needs to be moved to make way for a new garden design.
When transplanting a shrub or tree be aware of the weather.
Though possible, transplanting shrubs during very hot weather is definitely not recommended, it can cause great stress to the plant, even with lots of watering. To ensure the plant remain healthy, transplant in autumn or winter when the weather is cooler.
Even then, however, watering is the most important thing you can do.

Before you start digging it may be necessary to carefully tie up the existing branches which may be in the way.
Doing this will give you a better view of what you are doing. Once you've tied up the shrub, begin to dig around the plant's trunk.
Its recommended to dig up as much of the roots as possible.
Generally, 12" of root ball for every 1" of stem caliper, is adequate.
Dig a circular trench around the trunk of the tree or shrub. Dig straight down and pull the soil away from the plant.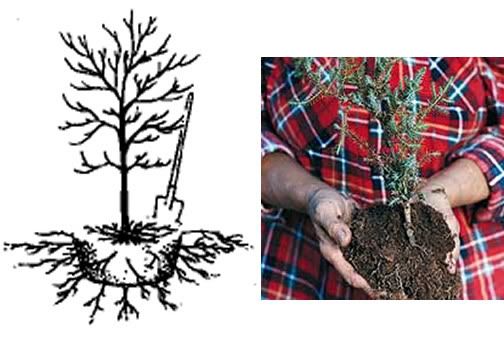 Tree and shrub transplanting, photo / pic / image.


_______________________________________________________________

After you've dug a deep trench around the trunk of the plant, begin to dig across, beneath the plant.
Do this from all sides of the plant. Avoid prying the shrub out of the ground before its ready, you could break apart the root ball and loose much of the outer fibrous roots.
Once the plant becomes loose you'll be able to remove the tree or shrub from the hole. This is the difficult part, especially with larger shrubs and trees.
Smaller tree and shrubs can generally be lifted out of the ground with ease.

To remove a large plant from the ground, lean it, root ball and all, to one side and place some sturdy burlap or an old blanket beneath the roots.
Next, lean the plant to the other side on and pull the burlap though.
Two people should be able to remove the plant from the ground with the root ball intact.

Plants should be kept moist while out of the ground and should only be out of the ground for a limited amount of time.
They should be planted again as soon as possible.
When planting the shrub in its new spot follow these general guide lines for planting.
Dig a hole twice the diameter of the root ball and just as deep. Place the plant in the hole making sure that the top of the root ball is at the existing grade of the garden.
If there are some roots which seem to be getting in the way of the plant sitting properly you can prune them.
Never plant new or transplanted tree and shrubs too low or too high, this a major cause of premature plant decline.
Back fill the hole with a mix of existing soil, peat moss and compost or manure to the half way mark.
At this point water the plant and allow the soil to settle.
This will prevent the formation of air pockets in the hole Construct a saucer around the trunk of the tree to prevent runoff and water again.
If the plant is tall and exposed to wind, staking may be needed.

Though some trees and shrubs are easier and more successfully transplanted than other, these general guidelines will give your plants the best possible chance or survival.

R Birch is the publisher of http://www.gardenlistings.com