Leaf Blower and Lawn Vacuum - A First Time Buyers Guide


By Lucy Bartlett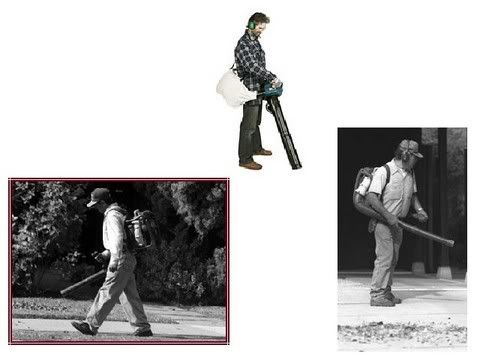 To move and clear debris such as leaves in the garden, a leaf blower is an ideal garden tool.
Addressing pollution issues, four stroke engines were recently marketed by the various manufacturers who were previously marketing two stroke engines and electric motors.
Some leaf blowers with vacuums can also pull in small twigs and leaves and then cut them into pieces for storage in the attached bag.

The leaf blower was invented in Japan in the early 1970s.
Originally used by the farmers in the United States as an agricultural sprayer, it was turned into a blower after removing the chemical sprayers from the equipment.
The manufacturers immediately seized the opportunity to market this redesigned equipment as a garden maintenance tool among the garden enthusiasts.
Many city administrations in United States banned the leaf blowers because of the noise generated by them.

When buying a leaf blower as an alternative to the back breaking garden cleaning process, consider the various features included in the models.

The size of your garden and whether it has a lot of leaf shedding trees should be the first factor when making a selection.
The volume of air output by various models is a major factor when selecting a leaf blower / vac.
Weight of the leaf blower should also be taken into consideration.
The most important feature should be the vacuum capacity and capability. Check whether they operate in reverse mode to route the leaves in to the built in bag rather than blowing the leaves away.
While a petrol powered blower is powerful they make quite a lot of noise when compared to the electric powered leaf blowers and vacuums.

Entry level models of leaf blowers with decent capacity to vacuum the leaves are normally fitted with an electric motor of 1600W capacity.
There are options to either suck and shred or blow the leaves.
To hold the debris, a collection bag is attached in the back.

If you don't want to be restricted by the length of the electric cable, then you should opt for a leaf blower cum vacuum which uses petrol for its operational energy.
Suitable if the garden is large and contains lot of trees. The petrol powered Engines normally have a 29 CC two stroke engine and electronic system to initially ignite the unit.

A less costly model is the electric powered sweeper / blower with vacuum capacity.
With its 200 miles per hour airflow, this powerful tool is suitable for most gardens.
The ease of use and the accessories, such as shoulder strap and collection bag are some of the good features of this model.