Irish native spindle ... Euonymus europaeus ... An Feoras



This article considers the Irish shrub commonly known as the spindle berry or European Spindle, a plant I would class as a "sleeper". By this I mean a normally plain and inconspicuous shrub, which in autumn comes alive with colours you never realised it had within it

European Spindle (Euonymus europaeus) is known by many other common names such as Fusanum, Fusoria, Ananbeam and Robins' bread. But it is Spindle berry or spindle which has stuck, a name which harks back to a time when the plants dense, white or pale-yellow wood was regularly used for making wool spinning spindles as well as the accompanying knitting needles. In more recent times, the easily worked wood has also been used in the production of skewers and toothpicks as it can be cut to a very sharp point without breaking.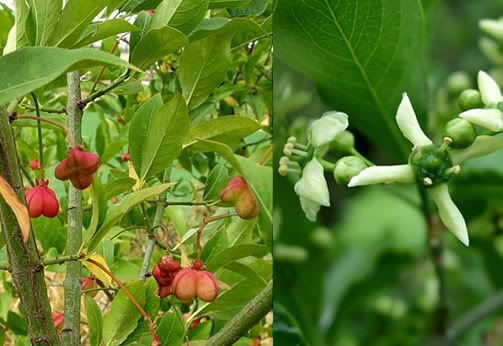 .

European Spindle (Euonymus europaeus) stem, leaf, fruit and flower, photo / pic / image.





Scientific classification


Kingdom: Plantae
Division: Magnoliophyta
Class: Magnoliopsida
Order: Celastrales
Family: Celastraceae
Genus: Euonymus
Species: E. europaeus

Chromosome number: 2n=32.

Size-wise European Spindle rarely exceeds 6 metres (20ft) in height, standing as a deciduous multi-branched shrub. It can be found growing in the wild on limey or alkaline soils within hedgerows, scrubland and on the edges of woodland.

If you want to set about recognizing spindle berry, firstly have a look for its leaves; occurring opposite each other they are lance-like to elliptical with an ever so gentle serration to the leaf edges. These normally green 3-10cm long leaves are attached by short stalks to a mish mash of reddish-brown stems. The leaves are part of the "sleeper" element I mentioned earlier about European Spindle, because in autumn they come alive with vibrant shades of neon pink purple and red being displayed where once there was green.

In contrast to the great autumn colours of the leaves, spindleberries May to June flowers are nothing to boast about. These hermaphrodite flowers (both male and female organs) are produced in greenish yellow clusters comprising up to ten small flowers apiece on short stalks. Although not spectacular, they seem to appease many of our insects with the richness of their nectar, which then return the favour by pollinating the accommodating plants.


.

Spindle berry fruit and seed photo / pic / image.



Just like with its leaves, the Spindle berries flowers emerge from their "sleeper" mode to become a dazzling autumn fruit. You see, from the pollinated flowers a green 1cm wide fruit with four capsules is eventually formed, this ripens from September to November to a deep-pink almost red colour. At the height of this colour the fruits open to reveal four bright orange seeds below the wings of the capsule.

When you take into account the fruit, seed and leaf colour exhibited by Spindle berry, then you have a plant to enliven November and December, two of the supposed darkest months in the colour calendar of your garden. It must be noted however, that the seeds produced are poisonous to humans and animals. Birds on the other hand are unaffected as the seeds pass through them undigested, chief amongst these seed nibblers are the robins, which is where the plants common name "Robins' bread" comes from.

Resistant to frosts, winds as well as dry and shaded areas, I suggest you plant your European Spindle in a location within your garden where little else is happening in late autumn/early winter.



Other interesting facts about European Spindle.



Never grow the vegetable broad beans near European Spindle as it a favoured home for blackfly.

Spindle berry can be pruned to take on a small tree-like shape by selecting and staking the strongest shoot after cutting back all other to the ground. Regular removal of stem side shoots and base regrowths are required.

The only wild tree or shrub in Northern Europe which creates a gutta percha, European Spindle produces this rubber or latex-like substance in its bark.

Even though the plants seeds contain a number of poisons, they were once used to introduce a yellow colour into the butter making process.

Baking the fruits, followed by powdering and rubbing into hair was once used as a remedy for human headlice as well as mange in cattle and horses .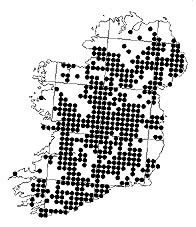 Chart shows approximate distribution of the native plant within Ireland, each dot is a 10km square in which the species grows.



Back to native Irish shrubs.

Spindle images courtesy
Jan Samanek, State Phytosanitary Administration, Bugwood.org
www.forestryimages.org